75th Anniversary - Invention To Innovation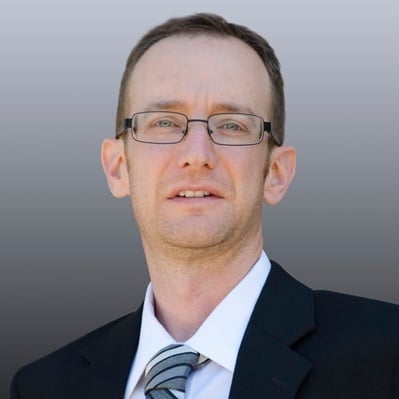 Invention To Innovation: the Houdaille Torsional Vibration Damper
V-J Day August 15, 1945 and the resulting peace treaty marked an end to World War II. A new era of life began in America. Industries would apply the technology advancements of the war to commercial use. Inter-city trucking began to compete against railroads to speed commerce and help build a new economy. Now if only commercial diesel truck engines had optimal vibration control for prolonged durability.

Expanding vibration control to further benefit internal combustion engine durability led the Houde Engineering Division of Houdaille-Hershey Corporation to invent the viscous torsional damper.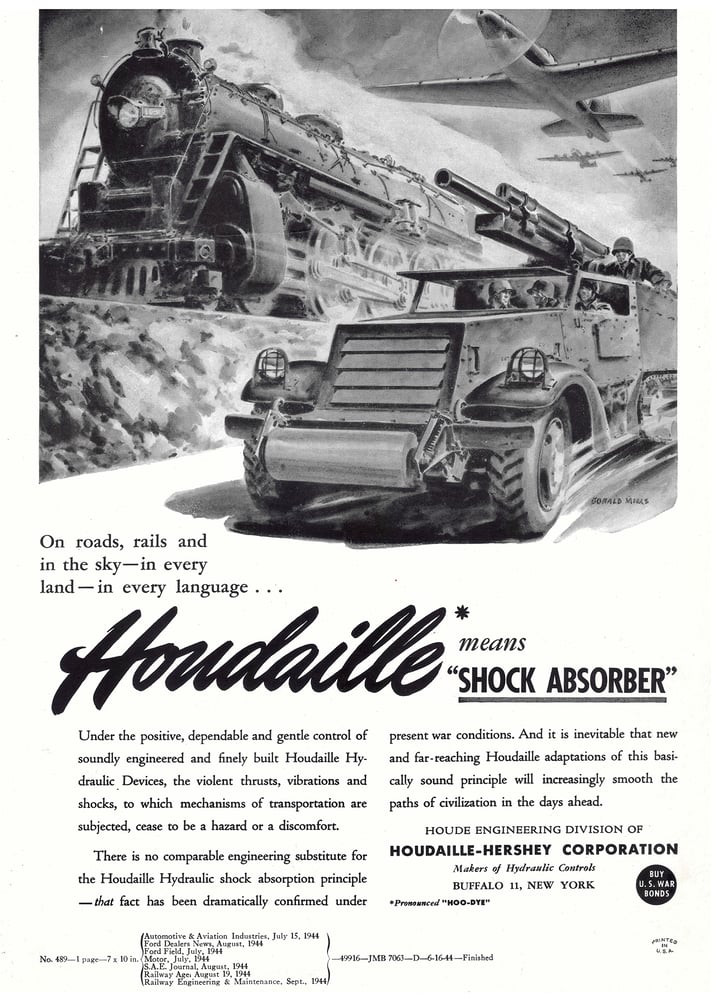 "It is inevitbale that new and far-reaching Houdaille adaptations of this basically sound principle will increasingly smooth the paths of civilization in the days ahead." - Houdaille shock absorber advertisement. 1944.
At the Houde Engineering Division of Houdaille-Hershy Corporation in Buffalo, New York a sense of the future began to take hold. The company's linear and rotary shock absorbers were widely used by the defense industry. The benefits of vibration damping were becoming standard equipment. Still there was progress to be made and other forms of vibration to better control. Namely torsional vibration inside internal combustion engines.
Torsional vibration is the end-to-end twisting and rebounding of the crankshaft caused by the force of combustion. Minimizing it prolongs engine durability and reduces noise, vibration and harshness (NVH). In the mid-1940s, that benefit was exactly what was needed for the transportation and automotive industries to grow. The Houde Engineering Division of Houdaille-Hershey were determined to make a better crankshaft vibration damper. The manufacturing might of Buffalo, New York was just the place for innovation to happen.
Fluid damping had been developed during World War I for artillery use. It was widely adapted by the automobile industry for linear shock afterwards. But the fluid wasn't sufficient or consistent for taming crankshaft torsional vibration. It wasn't until the Dow-Corning Corporation produced viscous liquid silicone in the mid-1940s that it became practical. One of the first applications of the new silicone fluid was conducted by Bernard E. O'Connor, assistant chief engineer at the Houde Engineering Division. O'Connor remarks that the fluid is valuable because of its "inherent stability and its nearly flat viscosity curve which permits constant operating characteristics regardless of temperature ranges or changes."
On May 15, 1946, O'Connor pitched his invention to the Society of Automotive Engineers (S.A.E.). It only contained three main components; A housing, an inner inertia ring, and viscous liquid silicone between the two. The inner inertia ring shears through the silicone in-and-out of phase to the crankshaft's twisting and rebounding motion. Thus reducing the associated vibration. Last, the viscous crankshaft damper could be developed for both light-duty gas automobiles and heavy-duty diesel trucks.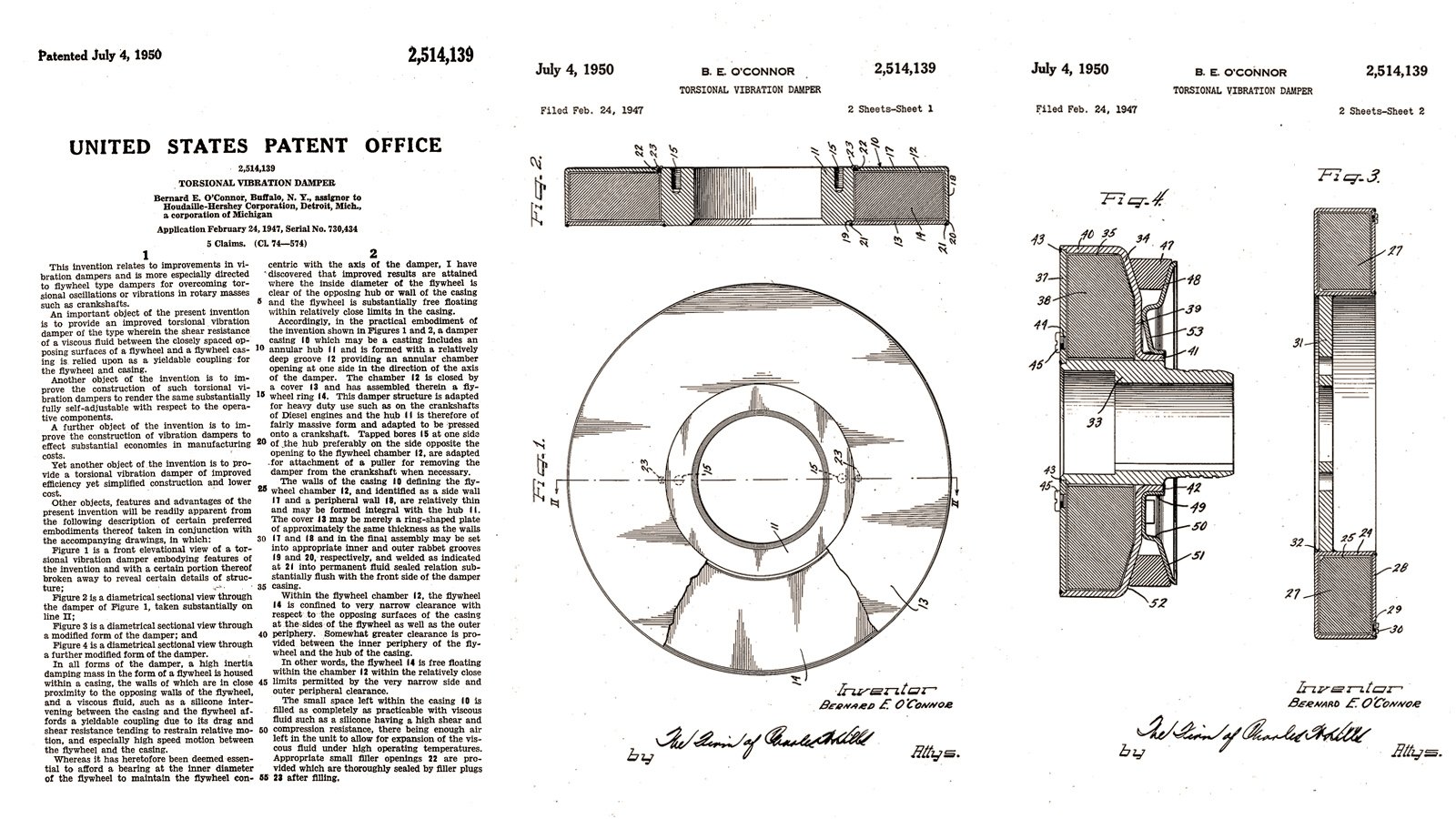 The viscous torsional vibration damper designed by Bernard E. O'Connor at Houdaille-Hershey received its official United States patent on July 4, 1950.

O'Connor's viscous torsional vibration damper was more durable than rubber damper designs and less costly than spring dampers. Heavy-duty diesel manufacturers were lining up. Viscous torsional dampers were already in use by the time an official patent application was filed on February 24, 1947. Company records indicate Detroit Diesel and Caterpillar were among the early adopters. As a whole with other product lines, Houdaille's East Delevan Ave. plant in Buffalo, NY employed 2,500 to 2,800 people at the time.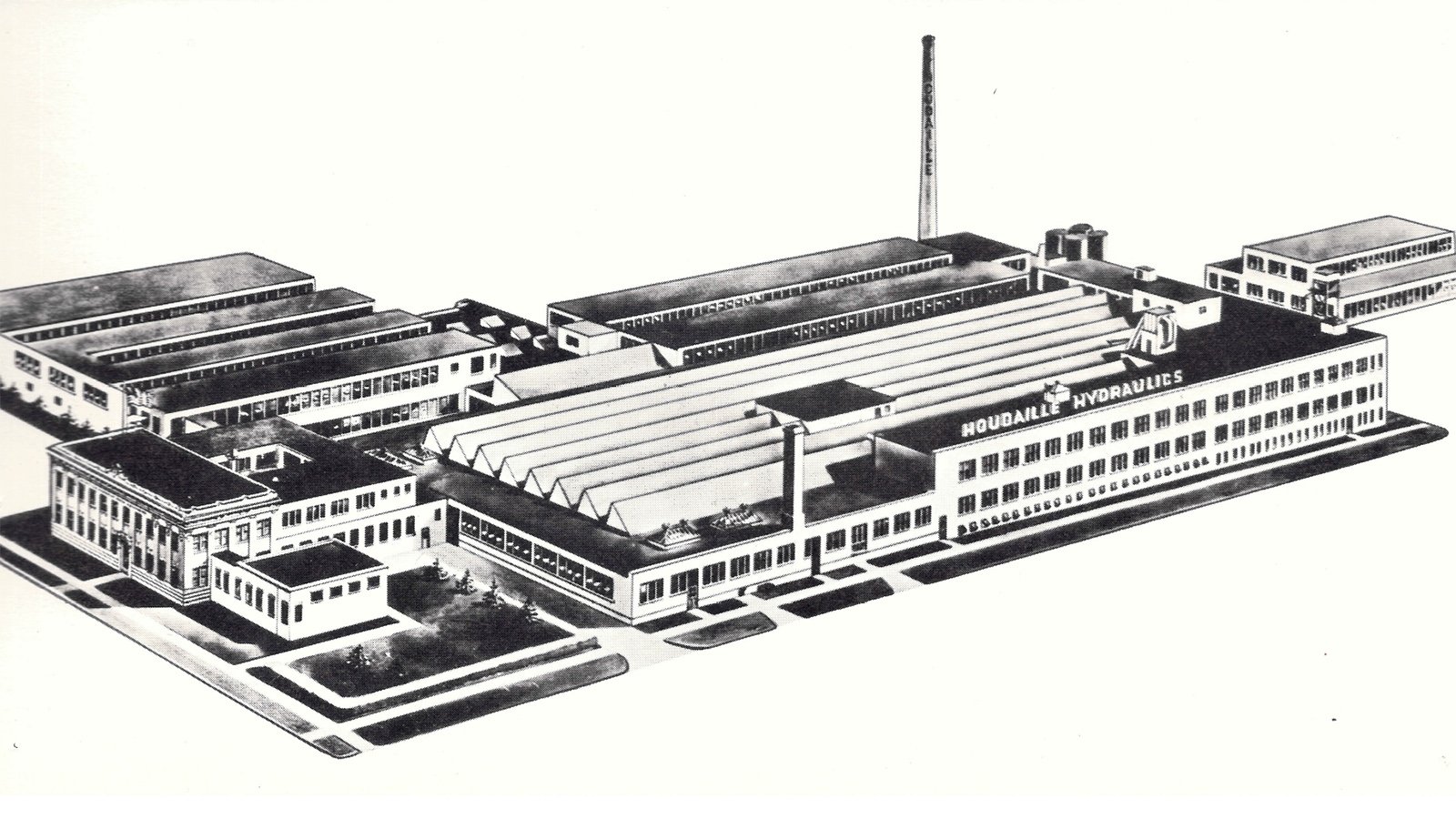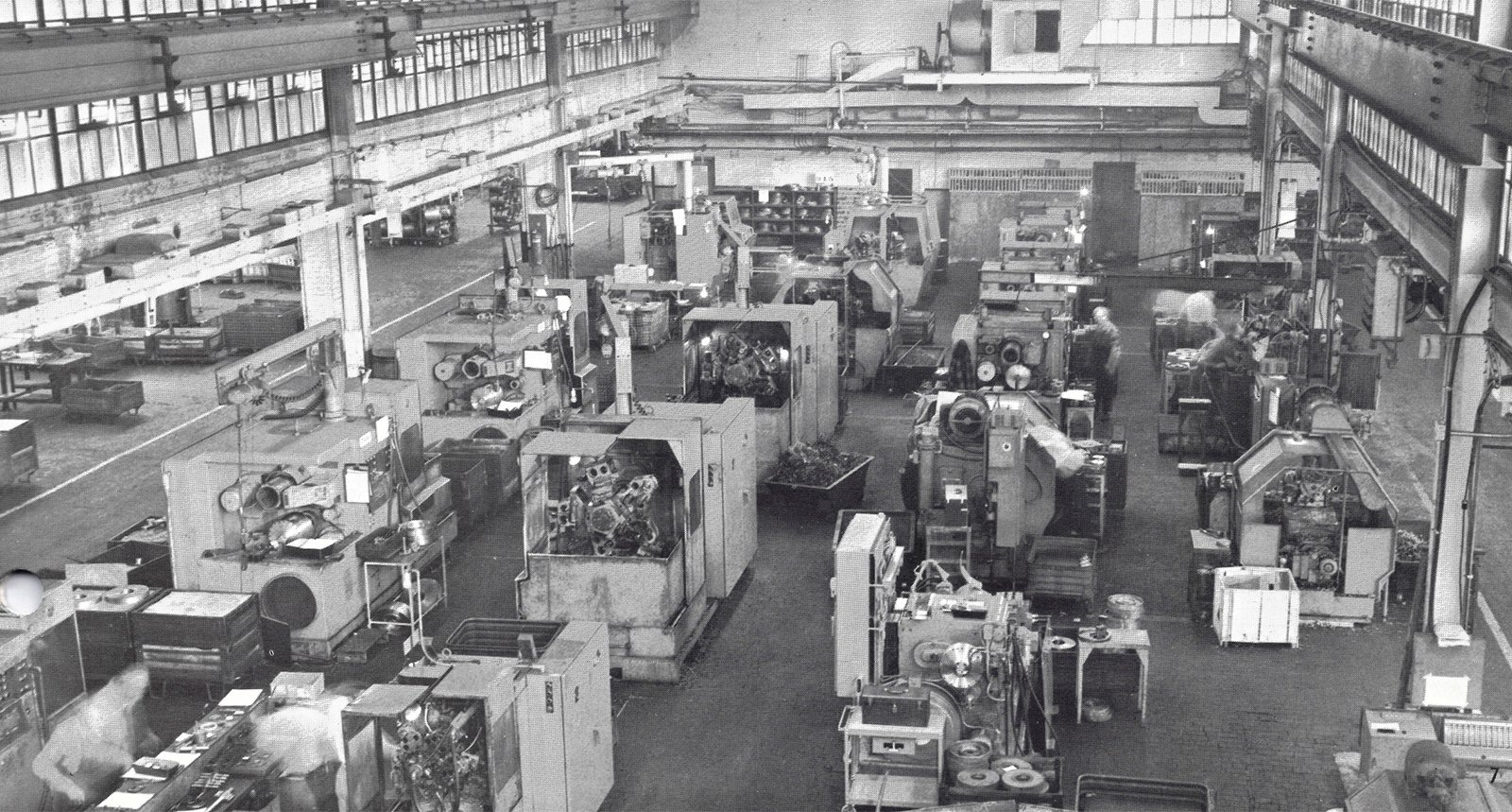 By the 1960s the Houde Engineering plant would become Houdaille Hydraulics - division of Houdaille Industries, Inc. East Delavan St., Buffalo, New York .

President Eisenhower signed the National Interstate and Defense Highways Act in 1956. With it 41,000 miles of new high speed interstate roads. As the trucking industry grew, so did the demand for the diesel engines that power it. In turn, a Houdaille viscous crankshaft damper was standard equipment. According to company archives, by 1973 approximately 90 percent of heavy-duty torsional dampers produced were for commercial trucks. Totaling 1.5 million since 1946.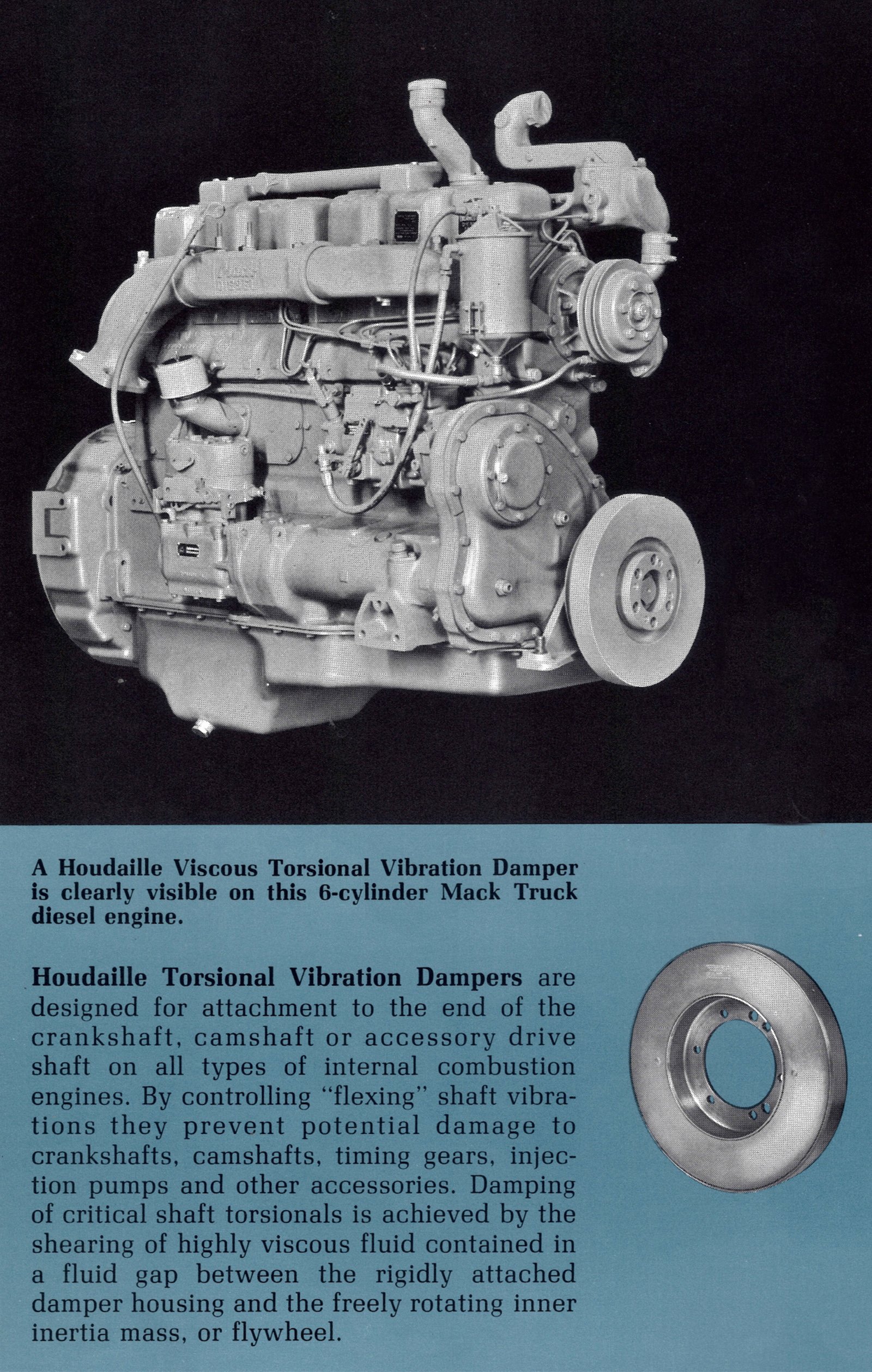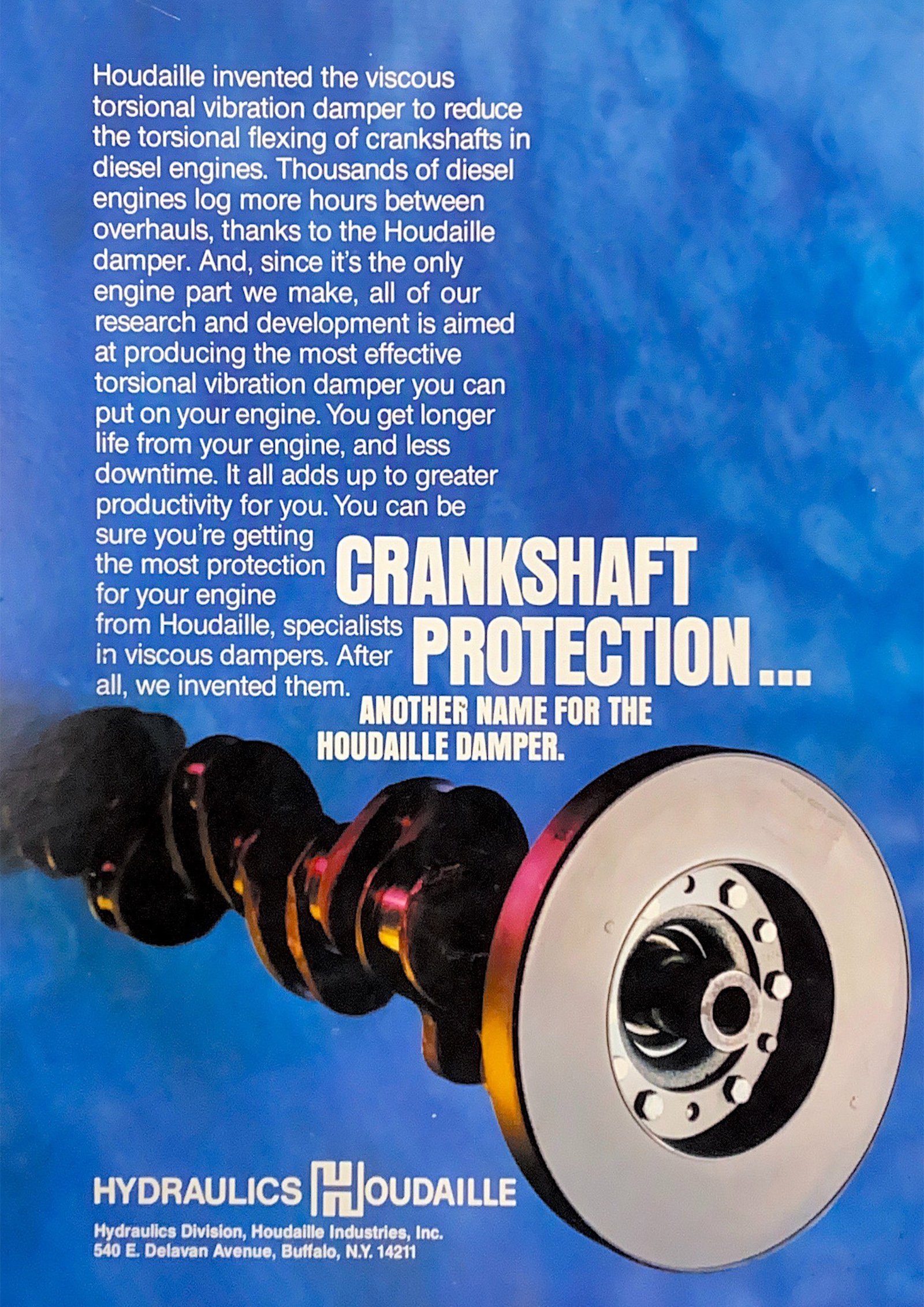 What about the early light-duty viscous crankshaft damper for automobiles?
O'Connor's 1946 S.A.E. paper states application use for the automobile. It would have been clearly desired for in-line engines of the day. Late 1940s ad copy even reads "in use on several production cars."
In the accounts of a 1973 company research paper, "the light duty viscous damper's advantage in the automotive field was soon lost when the short crankshaft V type engine obsoleted the in-line engine." The Houdaille light-duty viscous crankshaft damper was discontinued in 1957.
It makes sense as history unfolded. Chrysler FirePower V8 in 1951. 1954 Ford Y-block V8. Then the Chevy Small Block Gen 1 for 1955. True, a V8's shorter crankshaft didn't present as much vibration. A cost saving solid mass or tuned elastomer alternative was just good enough.
Business opportunities for Houdaille clearly favored the booming commercial market. It would be 20 some years until NASCAR starting pushing the limits of V8 crankshaft dampers. But that's a story for another chapter...

---
---