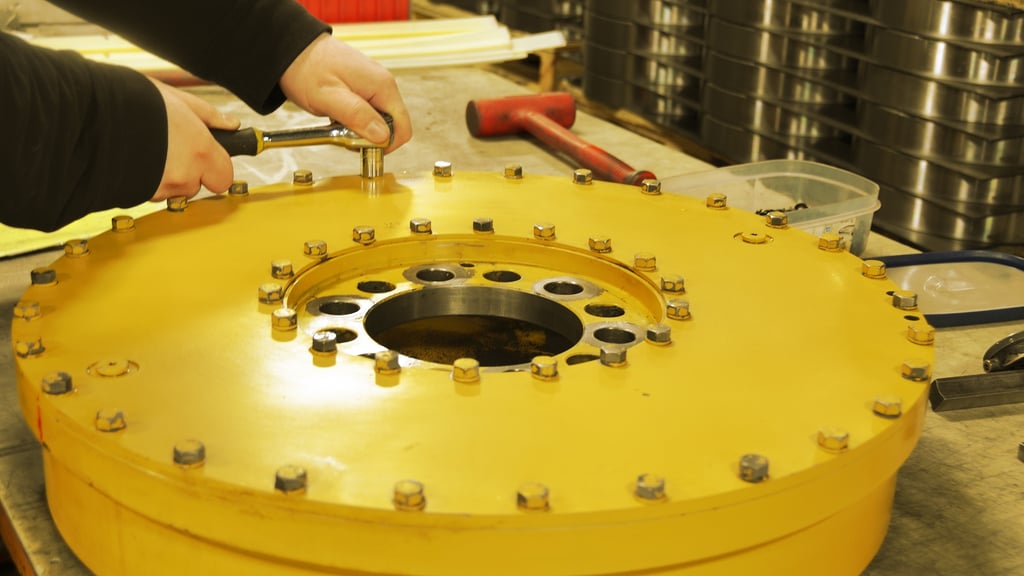 In our final blog post in the series Oil & Gas Industry - Engine Damper Service & Remanufacturing we'll explore replacement and reman options available for the three main types of viscous style dampers commonly found in the field.
As discussed previously in Servicing A Heavy Duty Engine Damper, recommended replacement intervals vary depending on engine manufacturer and operating conditions. Vibratech TVD's general guideline is 25,000 hours for stationary engines and gensets, and 500,000 miles / 15,000 hours for off-highway equipment and over-the-road Class 8 trucks.
Stationary applications and high displacement heavy-duty engines, such as field gensets, pumping engines and large off-highway equipment may use the former non-serviceable type or incorporate a removable inspection plug on the sealed outer housing. Dampers with an inspection plug are designed with overbuilt internal bearings and are intended to have the silicone sampled, analyzed and replaced at pre-determined intervals. Vibratech TVD offers silicone sampling equipment to be used in the field, then sent in for analysis.
Large scale continuous operating industrial applications, such as stationary gensets and natural gas pumping engines, may have a viscous damper or fluid-type damper with a bolt-on removable outer housing cover. They are intended to be rebuilt with new bearings and silicone on regular intervals.
Vibratech TVD Replacement Dampers
Vibratech TVD offers replacement dampers for popular heavy-duty diesel engines from Cummins, Caterpillar, Detroit Diesel, Waukesha, Mitsubishi and Cooper.* Visit our Stock Catalog page. To find a retailer near you please visit the Where To Buy page. Large oil & gas industry service provider companies and parts distributors may call (716) 592-1000 for direct purchase and stocking dealer options.
Vibratech TVD Remanufacturing Programs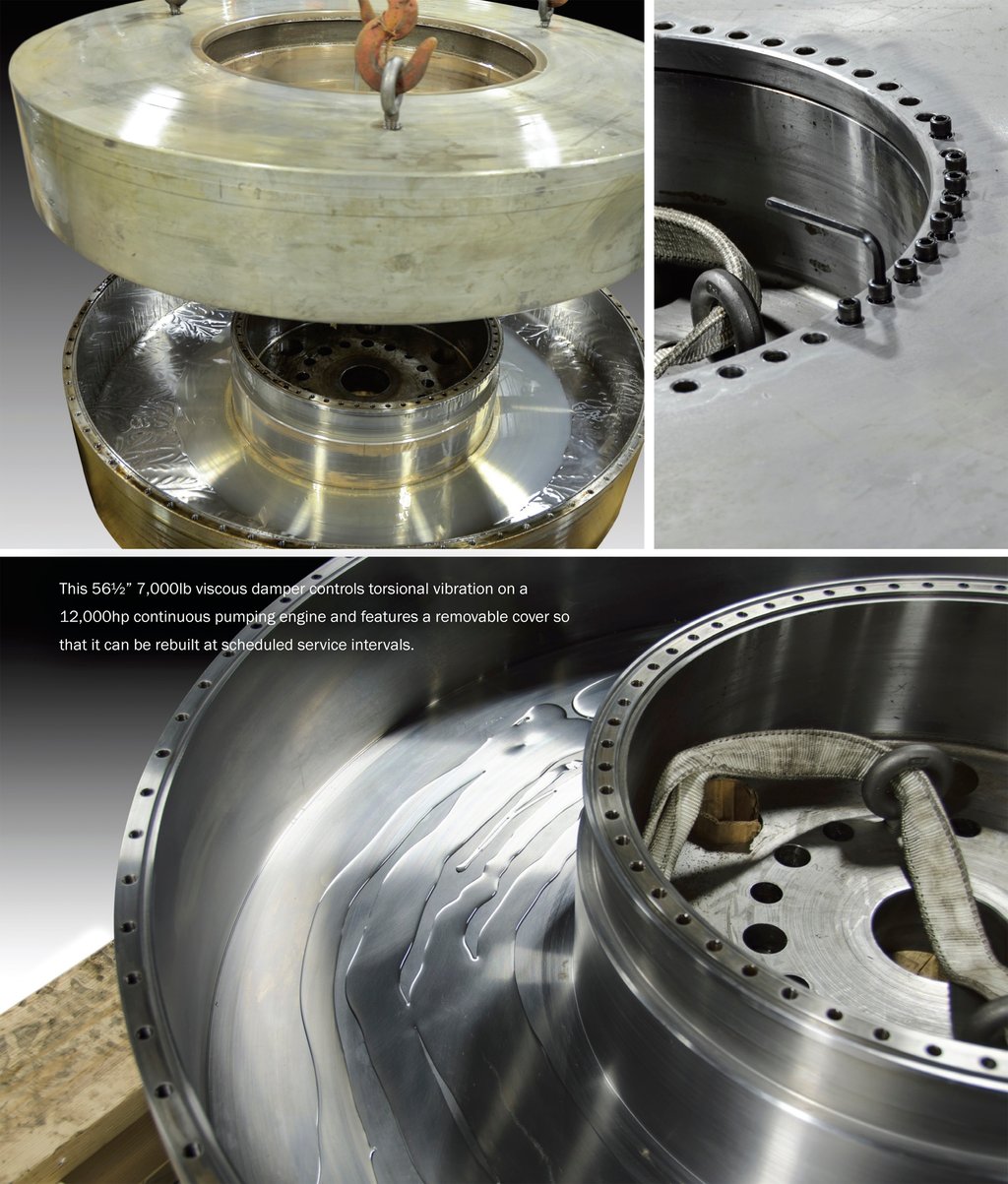 Engine manufacturers and leading field service centers recognize Vibratech TVD's damper remanufacturing programs and have adopted them to help reduce overall operating cost while maintaining their engine's life and productivity. Program options include:
Rebuild Program - Available for large bolt together viscous damper designs up to 56" in diameter.
Refurbish Program - Available for 18" diameter and larger roll-crimped or welded viscous damper designs.
Engineering Services - Vibratech TVD can provide engineering services for non-catalog and obsolete viscous dampers.
Vibratech TVD customizes these programs on an individual client basis. Contact us for further consulation.
Inventory Check
The goal in oil & gas industry applications is to reduce downtime. For service technicians and engine builders it is equally important to reduce warranty claims and build a reputation of exceptional trust and quality. It is highly recommended to create a routine damper inspection and service program based on your individual business needs. Vibratech TVD can help establish such a program through our extensive historical database and sophisticated computer modeling.
The next step is to ensure you have an adequate supply of engine dampers in inventory. Engine rebuild kits often do not come with a damper and it is a component you'll want to include during the same time allotment as it will take advantage of minimal additional labor hours.
Quality matters. The machining tolerances, bearing material and silicone grade of a viscous damper are all very critical to performance. "Vibratech TVD has been a manufacturing torsional vibration dampers across a wide variety of industries and applications for over 70 years," remarks Lynn Livermore, Vibratech TVD Sales & Technical Consultant. "As diesel and gas compression engines continue to advance so have the Vibratech TVD dampers needed to protect them from destructive crankshaft torsional vibration."
It's important to note that replacing or remanufacturing a worn out viscous damper does not correct damage already done from abuse. It will however help protect your rebuild investment, contribute to overall operating efficiency and prolong engine life moving forward.
Blog Series: Oil & Gas Industry - Engine Damper Service & Remanufacturing

Throughout this blog series we're taking a closer look at servicing engine dampers in the oil & gas industry. This may include pumping engines, gensets, construction equipment and on-highway trucks. Field operators, service technicians and parts distributors will learn valuable recommendations and product solutions from Vibratech TVD. Other posts include:
All content is available in a convenient download titled; Oil & Gas Industry - Engine Damper Service & Remanufacturing. This technical article makes for a valuable addition to your internal training program and field service reference materials.
Our sales and technical consultants are happy to assist in your support, simply contact us.
---
About the Author

Brian LeBarron is a marketing coordinator and content developer at Vibratech TVD. In addition to coordinating custom training programs for OEMs and parts distributors, he has been a guest speaker at AERA Engine Builder Association technical conferences and the Advanced Engineering Technology Conference. Published works on the topic of torsional vibration and engine dampers have appeared in Engine Professional, Precision Engine, Diesel Progress, The Shop and EngineLabs.com. During leisure time he enjoys history, travel and the outdoors with his family.
---
* The names Cummins, Caterpillar, Detroit Diesel, Waukesha, Mitsubishi and Cooper and all related descriptions, numbers, and symbols are used for reference only. It is neither inferred nor implied that any Vibratech TVD aftermarket parts are a product of, authorized by, or in any way connected with the original equipment manufacturer, or that they are original equipment.