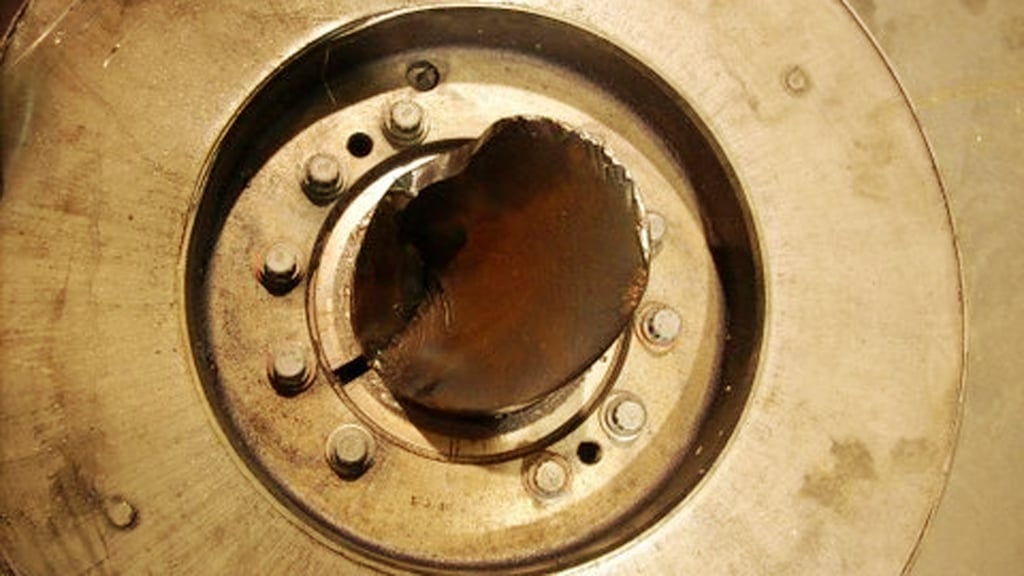 Unexpected downtime is costly for everyone involved. In the fast paced and competitive oil and gas industry an engine failure in any critical piece of operating machinery can significantly impact revenue. Maintaining heavy duty diesel and gas compression engines in pumping stations, gensets, construction equipment and on-highway trucks are all vitally important.
In this first in-depth post of our new blog series, Oil & Gas Industry - Engine Damper Service & Remanufacturing we'll review the basics of the viscous style dampers that protects these engines from destructive torsional vibration. Then we'll take a closer look at why they wear and provided valuable inspection guidelines.
Viscous Type Engine Damper Overview.
A crankshaft vibration damper is a vital mechanical component that contributes to an engine's overall efficiency and durability. Heavy duty diesel and gas compression engines dominantly use a viscous type damper for superior life over common elastomer types found in automotive applications. Viscous dampers are designed to handle high cylinder mean effective pressure and the associated crankshaft torsional vibration over continuous run cycles. Torsional vibration is the end-to-end twisting of the crankshaft caused from internal combustion; which is different than axial or rotational vibration.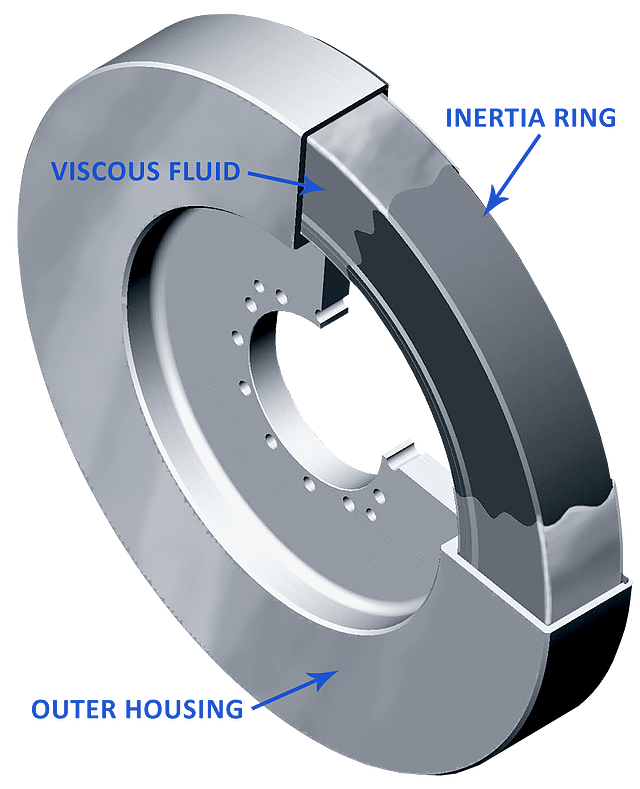 A viscous damper is constructed of three main components; a balanced outer housing, a balanced free rotating internal inertia ring and a thin layer of specialized silicone fluid between the two. Silicone is a proven damping medium because of its wide thermal stability. When an engine is operating, crankshaft torsional vibration causes the inertia ring to move in and out of phase with rpm. This shearing motion through the silicone transforms torsional vibration to heat. Heat then radiates through the outer housing.
Routine Engine Damper Service Is Required.
The combination of larger displacement, longer life cycle, continuous high torque output and extreme ambient temperatures requires routine service of heavy duty viscous dampers in diesel and gas compression engines.
"There are several factors that determine the rate of silicone degradation in a heavy duty viscous damper," mentions Vibratech TVD Sr. Product Engineer, Aaron Neyman. "Engine duty cycle, vibration amplitudes, operating temperatures, plus the refinement and dissolved oxygen levels of the silicone are only a few. Each factor needs to be taken into account when determining damper life. Each application is different."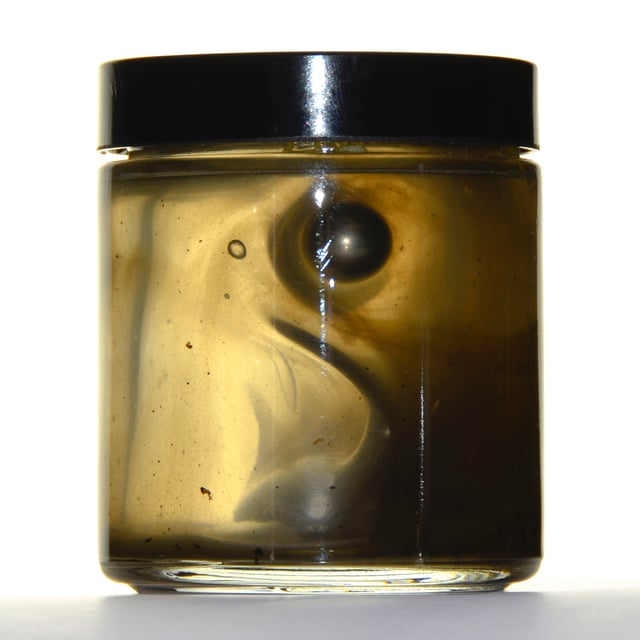 A metallic ball gradually falls through a silicone sample taken from a heavy duty diesel engine damper exceeding 15,000 hours. Dark spots show where polymerization has begun to occur. New silicone is completely clear.
There are also variations between engine damper manufacturers. Vibratech TVD offers the following general recommendations based on their own 70 year historical record on viscous dampers:
Depending on use, most gas compression engine and genset viscous dampers typicaly begin to wear out at 25,000 hours. Off-road and on-highway vehicles are 15,000 hours or 500,000 miles.
At that point silicone will break down and gradually undergo polymerization. This process changes silicone viscosity and the effectiveness of the damper to control destructive torsional vibration. Eventually, the silicone can harden and minimize the movement of the internal inertia ring. Once this occurs the damper is no longer functioning properly. When silicone completely polymerizes (hardens) the inertia ring can literally friction weld to the inside of the damper housing.
Mileage or operating hours is a general guideline, other common signs that can be attributed to an engine damper wearing out or not functioning properly in commercial truck and stationary engines include:
Loosening or broken bolts.
Throwing or slapping of belts.
Broken accessory brackets.
Accessory drive gear wear.
Loss of torque and horsepower.
Loss of fuel economy.
Driver fatigue.
Excessive bearing wear.
Broken camshaft(s).
Broken crankshaft.
Inspecting for these signs is valuable preventative maintenance. "Torsional twisting is a bad thing," remarks Bruce Mallison, owner of Pittsburgh Power, an independent service facility for over-the-road trucks. "It breaks crankshafts, camshafts, accessory drives, brackets... it will even knock the springs out of a clutch disc. So the damper needs to be changed."

New viscous damper silicone is clear and approx. 45,000 thicker than 30w oil. These dampers came from heavy duty diesel engines that had been rebuilt but the damper was not replaced. The internal deteriorated conditions of these dampers were a major factor in engine failure. Once polymerization begins at 25,000 hours for stationary engines or 15,000 hours / 500,000 miles for off-road and Class 8 trucks, the damper's ability to control destructive torsional vibration gradually diminishes.
Immediate Engine Damper Replacement Conditions.
Immediate viscous type damper replacement is recommended if any of the conditions are found below:
Look for any visible signs of a fluid leak. Viscous damper silicone is an extremely thick (about 45,000 times thicker than 30w oil) and tacky substance.
Inspect for any dents in the outer housing.
Measure several points for overall thickness on the outer housing with a micrometer. The difference should be no greater than 0.02" (note: be sure not to measure on any stampings). Although small, this type of bulge may indicate that the damper silicone is overheating from excessive engine performance.
Place a surface contact temperature gauge on the damper after the engine has been operating through its normal range. A viscous damper removes vibration by transforming it to heat. Therefore the damper should read warmer than the rest of the engine bay. If a viscous damper is cold, it is not functioning.
Thomas Heinsohn, Tech Support Rep for Waukesha Pierce Industries, Inc. acknowledges that the external temperature of the damper will vary depending on a number of factors, including ambient air temp and air circulation. He provides the following advice for stationary engine technicians to establish their own testing:
One recommendation that I make to operators which wish to monitor the condition of the torsional damper on VHP Waukesha engines is monitor the operating temperature of the damper from a point when a new engine or overhauled engine is put in service. Check the damper temp with a surface contact type t/c device just after shutdown at each scheduled service to begin building a baseline temp. If something changes in the driven equipment or the engine which increases or decreases the torsional vibration in the crankshaft then the damper temp will reflect that change as either more or less work and heat which must be dissipated.
If the loading and engine operation does not change and there is a temp change in the damper then that would be an indication that something within the damper may be changing and either creating more heat due to abnormal friction or silicone fluid changing. To the other degree, perhaps the silicone fluid is degrading and the damper is becoming less effective and therefore performing less work and thus less heat. That would be an indicator that the damper is performing less work or is less effective and there is very likely increased torsional vibration in the crankshaft.
Blog Series: Oil & Gas Industry - Engine Damper Service & Remanufacturing

Throughout this blog series we're taking a closer look at servicing engine dampers in the oil & gas industry. This may include pumping engines, gensets, construction equipment and on-highway trucks. Field operators, service technicians and parts distributors will learn valuable recommendations and product solutions from Vibratech TVD. Coming in the weeks ahead:
Handling and installing guidelines.
Replacement and remanufacturing options.
All content is available in a convenient download titled; Oil & Gas Industry - Engine Damper Service & Remanufacturing. This technical article makes for a valuable addition to your internal training program and field service reference materials.
Our sales and technical consultants are happy to assist in your support, simply contact us.
---
About the Author

Brian LeBarron is a marketing coordinator and content developer at Vibratech TVD. In addition to offering custom training programs for OEMs and parts distributors, he has been a guest speaker at AERA Engine Builder Association technical conferences and the Advanced Engineering Technology Conference. Published works on the topic of torsional vibration and engine dampers have appeared in Engine Professional, Precision Engine, Diesel Progress, The Shop and EngineLabs.com. During leisure time he enjoys history, travel and the outdoors with his family.