In our previous post, we explained torsional vibration. Torsional vibration can be categorized under Noise, Vibration & Harshness (NVH) and directly impacts powertrain performance and durabality, plus affects the operator.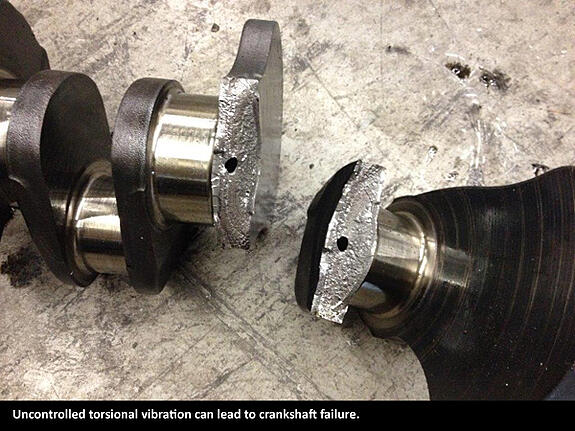 Where Torsional Vibration Commonly Occurs
Today design engineers at engine, vehicle and equipment manufacturers are challenged even harder to deliver emissions-compliant, quieter and more fuel-efficient powertrains without sacrificing performance and reliability. The use of sophisticated turbochargers, high-pressure fuel injection and elevated mean effective pressures put an even greater and destructive torsional vibration force into the system. Common areas where we see torsional vibration adversely affect the powertrain system occur at the:
Crankshaft
Camshaft
Driveshaft


If torsional vibration aligns with the resonant frequency of the powertrain component, an amplitude spike will occur that can often lead to catastrophic failure. In addition, consistent vibration entering the operator area can lead to fatigue and an uncomfortable work environment. To solve these concenrs a viscous damper can be designed to:
Diminish torsional vibration to acceptable limits across a broad frequency bandwidth.
Shift the system's resonant frequency outside of the operating rpm range.

Benefits Of Reducing Torsional Vibration With A Viscous Damper
The long term benefits of integrating into a powertrain system include:
Prolong engine life
Reduce main bearing wear
Improve valve train timing
Lower risk of crankshaft failure
Optimize torque and horsepower
Improve fuel economy
Reduce operator fatigue

A New Era Of Viscous Damper Development
To gain a deeper understanding of how a viscous damper can be integrated into current or future powertrain systems read 'Viscous Dampers: Evolving To Meet New Needs & Applications'. You'll gain broad insight on how viscous dampers have progressed to meet today's challenges.