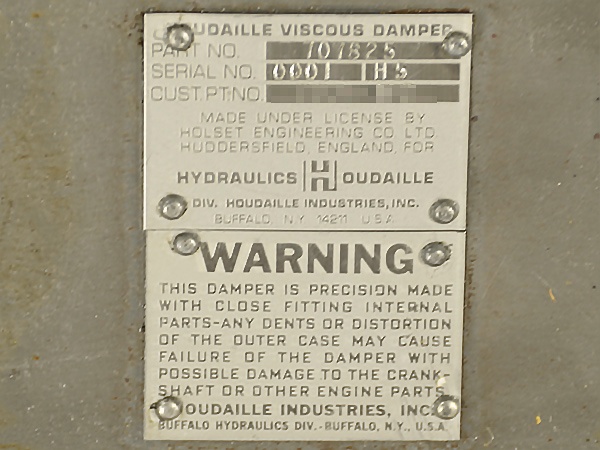 Large industrial heavy duty diesel and gas compression engines can see a life-cycle in excess of 50 to 60 years. Field technicians and operators today may be responsible for servicing equipment that dates back to the 1950s - 1960s. At the time those engines were manufactured they were likely to have been equipped with a Houdaille Industries, Inc. designed and manufactured torsional vibration damper (TVD). Viscous style torsional dampers from that era are commonly referred to as a Houdaille damper.
I Have A Houdaille Engine Damper. What Should I do?
Much can change in 50 years. The Houdaille Industries story is one for the history books. The engineering designs and catalogs of many of those original dampers have been acquired and archived by us today at Vibratech TVD.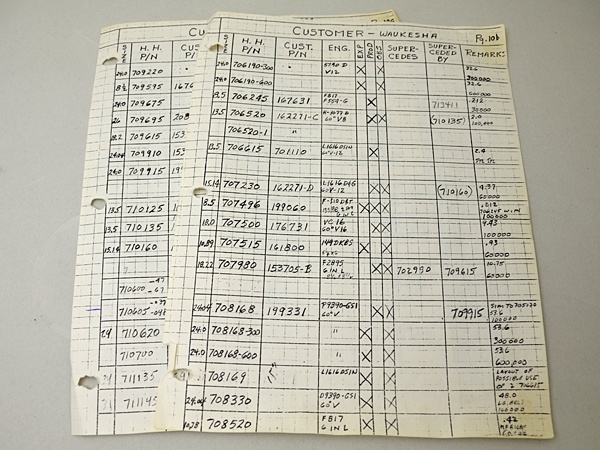 Pages from the Houdaille Hydraulics catalog archives
stored at Vibratech TVD.
We can help if you are servicing a heavy duty diesel or gas compression engine equipped with a Houdaille damper. Original part fitments, specifications, remanufacturing and even new manufactured options are available by contacting us.
Timeline of Name Changes
1946: The torsional viscous damper is invented by the Houde Engineering Division of the Houdaille-Hershey corporation. See An Early History of the Torsional Viscous Damper.
1955: Houdaille-Hershey becomes Houdaille Industries, Inc. Torsional vibration dampers are manufactured by their Buffalo Hydraulics Division located in Buffalo, New York.
1968: Houdaille Industries' Buffalo Hydraulics Division changes to Houdaille Hydraulics.
1988: Houdaille Hydraulics is acquired by IDEX and renamed Vibratech, Inc.
Early 2000s: Vibratech, Inc. is dissolved. The torsional vibration damper product line is fully acquired by their precision machining supplier. Vibratech TVD is created in 2003. All torsional damper research and development, manufacturing and sales is established in Springville, New York.
Please note that while there is an historic lineage, Vibratech TVD is a completely different business entity and ownership from Vibratech, Inc., Houdaille Hydraulics or Houdaille Industries, Inc.
Holset Torsional Vibration Dampers
Houdaille-Hershey also licensed their viscous style torsional vibration damper (tvd) technology at one point to United Kingdom based, Holset. Some legacy Holset torsional vibration dampers in the field may be stamped with Holset-Hershey.
Houdaille Engine Damper Fitments
According to catalogs archived at Vibratech TVD, heavy duty Houdaille engine dampers in excess of 24" in diameter included industrial diesel and gas compression engines made by:
Allis Chalmers
Cooper Bessemer
Dresser
EMD
General Electric
Ingersoll - Rand
Nohab Trollhatan
Nordberg
Waukesha
White Engines
If you are servicing a legacy engine from one of the above manufacturers and it is equipped with a Houdaille or Holset damper, Vibratech TVD is your primary source for detailed information and remanufacturing.
Vibratech TVD Remanufacturing Services For Houdaille and Holset Engine Dampers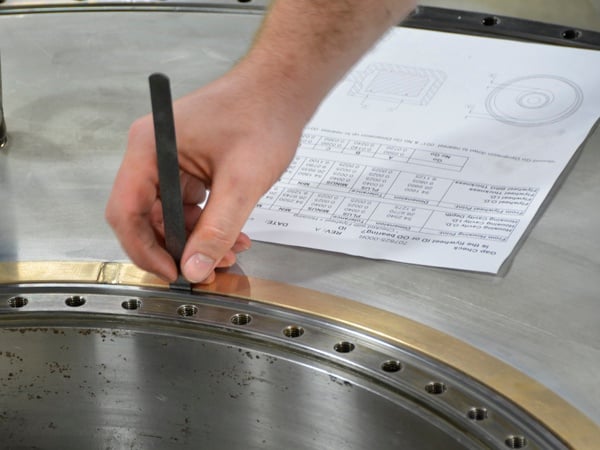 Gap checking the interal flywheel clearance of a Houdaille torsional vibration damper to original specifications during remanufacturing.
Houdaille and Holset engine dampers with a bolt together outer housing are intended to be remanufactured. Over the duty-cycle in an industrial application, the viscous silicone fluid within the damper will polymerize and must be replaced to avoid potential engine failure. They were also orginally manufactured with metallic bearings that will need to be replaced to spec or upgraded to a modern non-metallic style for improved performance.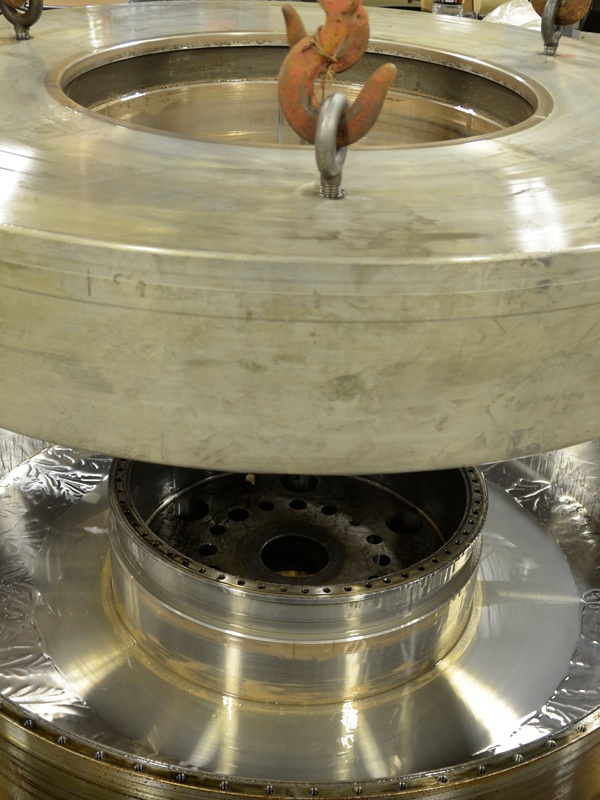 Houdaille engine dampers with a bolt-on housing cover are intended to be remanufactured. Here the internal flywheel is being removed. Note the bronze bearing wear-in from the flywheel onto the center hub.
To learn more about Vibratech TVD remanufacturing service, please visit our Heavy Duty Engine Damper Replacement & Remanufacturing Options blog post or Contact Us.
---