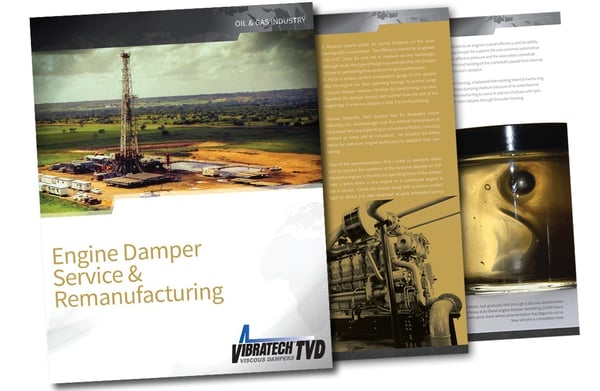 The Eastern Gas Compression Roundtable (EGCR) welcomes Vibratech TVD to present an educational seminar on heavy-duty engine damper service. The conference will take place from May 23 - 25, 2017 at the David L. Lawrence Convention Center in Pittsburgh, PA. Senior Design Engineer and Vibration Solutions Manager, Aaron Neyman will speak on Wednesday, May 24 from 2:40pm - 4:10pm.
Unexpected downtime is critical in the oil and gas industry. The engine damper is an essential component to maintain reliable operations. It requires inspection, replacement or refurbishing / remanufacturing. Field operators and technicians in attendance will gain valuable insights into:
How a viscous style engine damper works.
Why service is required.
When it needs to be scheduled.
Replacement and remanufacturing options.
The seminar expands on the popular tech article Oil & Gas Industry: Engine Damper Service & Remanufacturing by Vibratech TVD. It will include case study insights, plus interactive discussions.
Vibratech TVD, Sales & Tech representative, Lynn Livermore will also be available to answer your questions at our both (#203) throughout the conference.
About EGCR
The Eastern Gas Compression Roundtable is "a non-profit organization whose primary purpose is to provide the Natural Gas Industry with cost effective training programs." (www.ecgr.org)
---