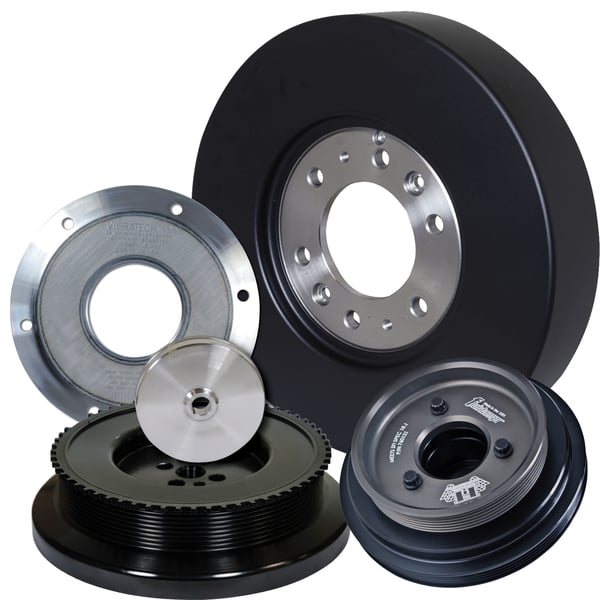 Start Your Engines.
In the mid-1980s professional race engine builders approached Vibratech TVD. They understood why a viscous damper would benefit them. Our mutual challenge was to apply Vibratech TVD's extremely durable, commercially proven crankshaft viscous damper technology to motorsports. The Fluidampr brand was born.

Since, in essence, it became its own division. So recognizable that the product brand name and division have become synonymous.
We continuously innovate our Fluidampr design to exceed the evolving demands of racing. Advances in technology and manufacturing have allowed us to push the envelope further. Strategic position of mass, optimal weight, superior durability, ever higher RPMs, higher ambient temp with low air-flow engine bay environments, and broad range damping are areas Fluidampr - the division - continues to lead with viscous damper technology.
"Fluidampr proved to be the best...On top of the numerical data, there was a noticeable reduction in harmonics that could be felt in the concrete floor of the dyno cell. We'll be using Fluidampr on all of our in-house builds..." - Jeremy Wagler. Wagler Competition Products. 2017 Engine Builder of the Year - Engine Builder Magazine.
Today, breakthroughs from Fluidampr's involvement in motorsports translate back to Vibratech TVD. These are applied to exotic automotive, marine performance, aviation and defense OEM applications.
Fluidampr was able to supply us with an item that has a lot more durability than our previous elastomeric damper. The new damper gives us more confidence for the 24-hour races." - Vince Tiaga. GM Performance - Corvette Racing Project Lead. Race Engine Technology magazine. Sept/Oct 2017.
Grassroots racers to OEM factory race teams have made Fluidampr the leading viscous damper in motorsports. Hot rodders and restorers trust Fluidampr. Performance Diesel competitors value our diesel heritage and high power experience. Import owners appreciate that we optimize damper design and performance to their engine's needs. From R&D to sourcing materials to manufacturing and assembly, all are proud it's done right here in the USA. Shipped worldwide.
Vibratech TVD At Its Core.
Parent company, Vibratech TVD is where the science happens. Automotive performance powertrain engineers often reach out through Fluidampr channels to develop and integrate turn-key torsional dampers with exceptional quality.
"It's familiar. Fluidampr is seen at the track, at racing trade show, race engine tech conferences, and in parts catalogs," explains Fluidampr Business Development Manager, Ivan Snyder. "When we open the door to Vibratech TVD it becomes clear we are more than an engine part. We are industry experts in viscous damper research, development and manufacturing. Motorsports is our fun side."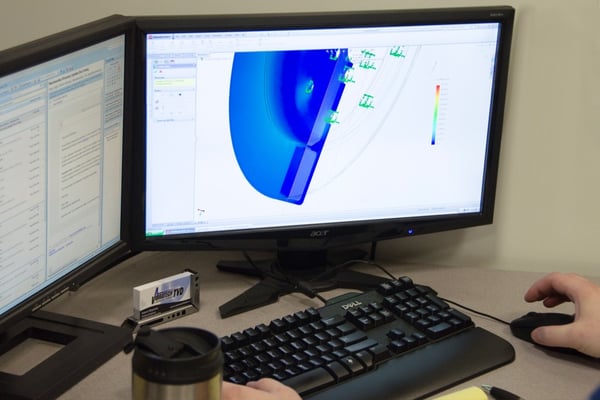 At our core Vibratech TVD is a torsional vibration solutions provider to OEMs and their suppliers. We offer the widest application experience of torsional viscous dampers in the industry. From 1.1lb (0.5kg) automotive cam dampers to 7,000lb (3,175kg) gas compression pumping engine crankshaft dampers. 100hp to 25,000hp. Vibratech TVD is also leading into tomorrow with new highly durable narrow-range viscous damper designs to minimize targeted NVH in commercial electric drivetrains.
Capabilities
Powertrain torsional vibration analysis; including crankshaft, camshaft and driveline.
Torsional damper engineering.
Integrated design.
CAD simulation modeling.
Finite element analysis.
3D additive printed prototypes.
Comparative product testing.
Advanced American manufacturing.
Meet Us At 2018 Engine Expo - Novi.

Powertrain engineers who wish to learn more about advances in viscous dampers, our high performance engine experience, and design and development capabilities are welcome to join us at Engine Expo - Novi. Oct. 23-25, 2018. The Suburban Collection Showplace. Novi, Michigan USA. Booth #E400.
Can't make Engine Expo? Contact us for consultation.